Froguana can be found spending most of its time swimming in jungle ponds. It loves to climb trees and can do so easily with its long sticky tongue. Froguana likes diving into water from the tree branches and will sometimes even use his tongue as a bungee cord. Wouldn't you love to be able to relax by the water all day? 
| Egg | Baby | Teen | Adult |
| --- | --- | --- | --- |
| | | | |
| Habitat | Forest, Jungle | Rarity | Uncommon |
| Harvests | Grass, Bush, Tree | Available Level | 12 |
| Incubate Time | 5 Hours | Hatching Time | 7.5 Hours |
How to get it
Edit
Can be purchased for 250 gems in the store.
Breed a forest creature with a jungle creature. Consult the breeding combinations page for examples of matches.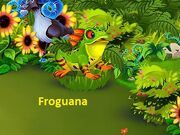 Ad blocker interference detected!
Wikia is a free-to-use site that makes money from advertising. We have a modified experience for viewers using ad blockers

Wikia is not accessible if you've made further modifications. Remove the custom ad blocker rule(s) and the page will load as expected.